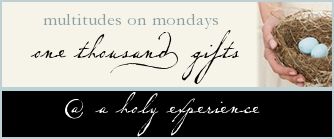 This is such a beautiful song.
39. I am thankful for those with talent to minister His truth through music.
40. Thankful for my husband who walks this life with me.
41. Thankful for a busy, enjoyable weekend.
42. Thankful for blessings mixed in with challenges.
43. Thankful for three beautiful girls.
44. Thankful for a husband who hungers for the Lord. (Yes, he deserves two mentions in the same post)
45. Thankful for new mercies every day.
What are you thankful for?
See what others are thankful for at A Holy Experience.
Survive til you Thrive!