I heard this song on the radio today and it resonated with my heart today
I have reached a point in my journey where I have started praying the Lord would allow me to see the depression used for His glory.  It took a bit to get there.  And it is a good place to be.
For today's Multitude Mondays I am thankful
47.  The Lord uses me, in any situation
48.  He is allowing me to see Him using the postpartum depression in the lives of others.
A friend who is doing a project on PPD and presenting it to others in the medical field
A friend who has reached out in the midst of struggles
My midwife now having the contact information for the doctor who is helping me so hopefully another woman will get the help she needs when she needs it.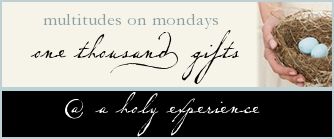 Survive til you Thrive!