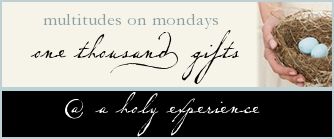 I have had a blessed weekend. Not one free of challenges and concerns, but one was blessed and a blessing. Friday evening was spent with some new friends, some of the sweetest people I have ever met. I love opening my home to people, but the busyness of life and not having my life perfect enough keep me from doing so. But for once, I threw caution to the wind and invited them before I had time to think and talk myself out of it.
My house needed lots of love and attention to be ready to share with others, so Thursday night's "other activity" exercise was picking up wonderful little girl toys and clothes. And loading the dishwasher. We are blessed to always have enough to eat which is shown by the quantity of time we spend cleaning off dishes, loading them in the dishwasher, then piling them, once clean, into the cabinets.
Friday was spent working and then dirtying dishes to get ready for our friends to come over. And I am so blessed to not only have the dishes I need, but also pretty dishes that just add a touch of warmth and comfort when serving others my simple meal of spahetti and salad. I love putting the food in the extra pretty company dishes. Thank you Lord for these dishes that cannot go in the dishwasher, but rather require the attention of hand washing. Using them makes me smile. Cleaning them makes me feel accomplished.
Saturday was spent getting the kitchen back in order. Thank you for the time I took in doing that while my husband worked on his projects. He is the one who normally does the cooking and cleaning up. He blesses me in that way so often. It was nice this weekend to see his pleasure and gratitude when I had cleaned up the dishes and had the counters all wiped down.
Time was again spent Sunday in cleaning up our breakfast dishes after my hubby made us wonderful pancakes and then was called away to do a home repair. It was again my pleasure to get the heart of our home cleaned and ready for the day. Thank you Lord, for a husband who is a blessing in so many ways.
57. For friends
58. A wonderful home to host those friends
59. My dear husband who is so appreciative and supportive of my efforts
60. Our middle child having some relief from not feeling well, and medicine to help her when it is needed.
Also sharing this over at Thought Provoking Thursday
Survive til you Thrive!