As I mentioned in my Saturday post, the girls and I went up to see my family this weekend. The girls were fantastic travellers. We did the whole trip up without stopping once. Not even for a potty stop. That's better than we do when daddy travels with us! It was a lovely thing.
While we were up with my family, daddy stayed home and redid the hardwood floors we found. He sanded them and put a clear coat on them. He worked quickly and well to better our home. It is a lovely thing.
My body obeyed this weekend when I asked it to run. It listened when I asked it to run up some really big hills. I finished the race without feeling totally wiped out. It was a lovely thing.
Sue made my mother very happy this weekend. My mom got to see Sue throw a huge fit. The kind I used to throw as a little girl. You know the kind where your mother says, "I hope when you grow up you have a daughter who does the same thing to you." Yeah, that kind. And my mom got to see it. It was not a lovely thing.
We travelled back home yesterday with just one stop. And there was minimal crying from the girls as we travelled. My first experience travelling with the three of them by myself was all in all a lovely thing.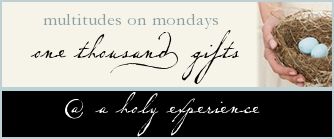 I am thankful for these many lovely things.
94. Travelling without incidence with the girls
95. Running my 3rd 5K with an improved time over the other two.
96. Visiting with my sister. Finding more similarities between us.
97. Being able to handle Sue's fit with a modicum of dignity.
98. Sue calming down from her fit and being my sweet loving girl again.
99. The beautiful hardwood floors we came home to.
100. Coming home to daddy after being gone for two days.
What lovely things are you thankful for? What would you like to share?
Survive til you Thrive!