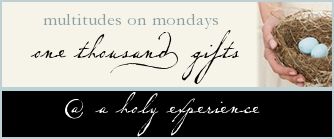 I took a break from Multitude Mondays for a couple weeks, but I have not forgotten it. There has just been much on my heart and in my life. Please browse some of my other posts and see what the Lord has been working on.
In the midst of all that has been going on, I celebrated a birthday. On Friday the 13th. It was low key, but we had a good time as a family. I had a treatment for the depression and then we headed out to dinner. We were all exhausted when we got home, so we did cake Saturday morning.
I am thankful for:
107. my family.
108. another year of life.
109. the Lord's faithfulness.
110. little girls playing in the bath tub.
111. three little girls that give me the honor of celebrating Mother's Day.
112. boxes of clothes and gifts from family for our girls.
113. a hubby that serves us with his life.
Make sure to check out what others are thankful for at A Holy Experience.
Survive til you Thrive!