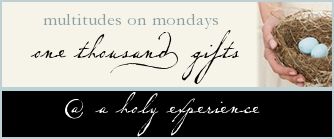 It is Sunday night. I am extremely tired. And oh so ready for bed. But there is still lots of activity in my house. One little girl is getting an emergency bath–should have seen that diaper! And the other two are supposed to be getting ready for bed, which means they are coming up with every delay tactic they can think of. And so many of them are cute…how far will we let it go. Hard telling. Am I the only mama that sometimes lets them get away with the delays? Am I the only one that can be snowballed by their kids?
Today I am thankful for:
114. the sound of them playing with learning toys.
115. a hubby willing to do yucky diaper changes.
116. friends who are willing to watch my kids when there are daycare changes.
117. a surprise lunch with one of my favorite people.
118. beautiful babies all in violet.
119. a blog challenge that forces me to look for those things I am thankful for.
120. a hubby who is so skilled in things around the house–my own personal handyman.
What are you thankful for? Head on over to A Holy Experience to share and see what others are celebrating.
Survive til you Thrive!