Tonight we went for a walk as a family. At the beginning, I didn't really want to go. I was enjoying a conversation on twitter and didn't want to engage in "real life". But it is a beautiful fall day here and soon…well, it won't be. So off we went.
Sue started off holding my hand. I love the feel of her hand in mine. Those wonderful fingers, holding on, feeling warm in mine.
After a while, she went up to daddy and Patrice, and Caitlyn settled in next to me.
Caitlyn told me about school, and what bullies are. We talked about what to do about bullies. It was a long conversation trying to help her understand what to do or say if someone is bullying her. Then she told me about the boy who got sent home from school for making noises with "this part of his arm" (also known as the armpit). I don't know if he actually got sent home for that, but she insisted he did. We talked about the treasure box she made with daddy and how she was going to put her blankie in there. And we talked about her being grouchy with all of us at home because she is tired from school…and what we could maybe do about that…
I almost wished this moment away. What a loss it would have been. To my daughters and to me. I cannot always be with them. And sometimes I choose poorly when I am with them, but thankfully, the Lord gets ahold of me and reminds me to be with them, to hear them, to know them, to love them.
For this I am thankful.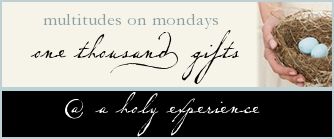 168. Precious times with my family
169. Wonderful hugs when seeing a friend at church
170. Waking up from a bad experience and realizing it was just a dream
171. Candor of little tongues
172. Hearing little voices say their Bible memory verses
173. Smell of fall
174. People challenging me to better myself
Come share what you are thankful for at A Holy Experience. Or just come read what Ann has written. It will make your heat and soul swell with joy and pain.
Survive til you Thrive!