As I talked about yesterday, I am slowly working my way through the book, One Thousand Gifts by Ann Voskamp. I am also slowly making it through writing my own list of 1000 things for which I am thankful. Bit by bit I am seeing this exercise working it's way into my life. I often think, oh, I have to remember that one for my 1000 gifts list. Sadly, I often forget. Here is what my heart and mind can remember after a very long, busy, week, day, evening.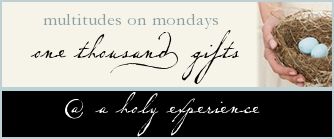 191. The warm feeling my home has as the days get shorter and a bit colder.
192. Running in this.
193. Wonderful scents of a candle hubby got me for our 7th anniversary yesterday.
194. Hubby doing bedtime routine so I could moderate #ppdchat.
195. New ideas on how the Lord might be able to use my journey with postpartum depression and anxiety to reach other mamas.
196. Friends who check in on me when I am sick.
197. Not feeling as sick at days end as I did at daybreak.
198. A simple, benign diagnosis of something that could have been so much more.
199. Neighbors who return our dog when he escapes the yard again.
200. Technology that allows me to reach others for education, work and edification.
What is on your list?
Survive til you Thrive!