Last week started to get shakey.  My emotions were more volatile, my anxiety spiked periodically.  My therapy appointment was hard.  I sat in the little waiting room strongly considering walking out, wondering if he charged a no-show fee.
I stayed.  I didn't cry in there, but I sobbed in the car.
Friday got exponentially worse.  Some things happened at work that pushed the anxiety to levels not seen in many months.
Saturday I made it through because daddy took the older girls for the day, and Patrice was more than willing to nap and play quietly in her crib.
I was so relieved Sunday when two of the girls had mild colds, so we stayed home from church.  I hid in the anonymity of the grocery store.  Wished I could stay forever.  Then headed to a Fancy Nancy Birthday party with Caitlyn.  I'm pretty sure the other mom's think I am a snob, but honestly, I gave all I could.
Sunday night I was wound so tight I could not relax to sleep.  It was the worst it has been in a while.  I cried to my hubby, "I should have called the doctor today, why didn't I?"  Thankfully hubby hugged me and talked to me til I drifted off.
This morning I pushed myself to go exercise.  Expecting sweet relief, only to cry while I biked.
I finally gave in to reason and called the doctor.  We added a new medication.  But the best part?  A revelation.
My whole life I have dealt with various health issues, and as I mentioned in this post, I have wondered who I would be if I was healthy, if people would see me anymore or if I would disappear.  I got amazing feedback from my post and many other interactions based on these thoughts.  The overwhelming message was that people related to me, for me, not due to illness.  And, I got to believe it.  I embraced it.  Started dreaming of who I would be when the depression and anxiety were gone.
But my mind betrayed me again.  This was not the final breakthrough I needed to escape the depression.  Instead, it was just another lull in the battle.
Yet, it was a breakthrough.  I can finally say with confidence the illnesses and issues that have dogged me for years, are not of my own making.  They are not my imagination. I do not invite them.  They happen.  They hurt.  They are real.  I am not just a whiny impostor.
I have struggled for so many years with these thoughts, that somehow I was a big lie, and was bringing all of this on myself due to some warped perception of reality.  Today, for the first time, I can boldy and unequivocably say that is not true.
I am Charity.  I am real.  I am authentic.
This realization deserves a singing of the hallelujah chorus.
(Too bad I can't get it to link!)
For this, I am thankful:
311 (50).  Freedom in the midst of anxiety.
312 (51).  Going out to dinner with my Sue.
313 (52).  Hubby loving me when my nerves are making me stress and twitch.
314 (53).  Seeing hubby appreciate his mom's artwork.
315 (54).  A spectacular sunset.
316 (55).  Days getting just a bit longer.
317 (56).  Hugs from my Caitlyn at a birthday party.
318 (57).  Tasks at work making sense.
319 (58).  Days off from school.
320 (59).  Encouragment coming when it's needed.
I'm linking with Ann Voskamp.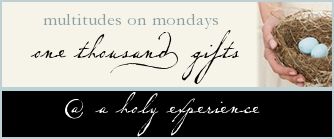 Also linking up for Pour Your Heart Out Wednesday