I am continuing in my journey of counting my blessings, seeing God in the little and big gifts.
Ann Voskamp has challenged us to continue, and it is now called the joy dare. My hope is to dig deeper for the joy in all, big and little.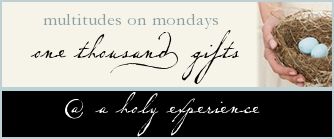 I find the majority of my joy is not from the big events, but the little. From
271 (10). how Patrice lifts her eyebrows as she nods her head up and down or side to side
To
272 (11). coming up with a new game to get the girls to clean their room with minimal fighting.
273 (12). another lady in the church nursery being willing to change all the kids before they were picked up.
274 (13). ability to laugh when kids are throwing fits.
275 (14). listening to daddy teach scales to oldest daughter on the piano we were given.
276 (15). knowing people that know people who have the skills we need.
277 (16). being able to change from telling someone I am ok, to I am good!
278 (17). getting compliments on my weight loss.
279 (18). days at work that go quickly.
280 (19). access to clean water for baths, cooking, drinking, playing. Read Ann's post here about water and it's value.
281 (20). friends to share the embarassing moments.
For what are you thankful?
Join us here in counting the joys.
Survive til you Thrive!