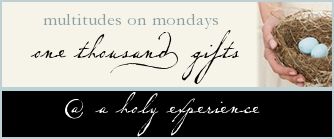 I have been doing laundry like crazy. I like to wash all clothes we get as gifts and then get them folded and put away. I've got most of the washing done…now for the folding and putting away. We were given so much for the girls that I think I am going to pull out most of what is currently in their drawers and give them all new fresh options!
So do I pack away all we currently have for the next child…the bonus of having three of the same gender, or do I realize we truly have enough put away for a mega family and donate some of what we have? It's a hard choice.
Am I offending people who have given us so much if I give away what they have previously blessed us with? Am I being a good steward of resources if I keep them? Or am I just being selfish and hoarding if I box it all up just in case we need it later? (FYI, part of this thought process comes from watching an episode of hoarders last night)
Hmmm…
I'm really not sure what to do…
So for now I will begin with being thankful:
262. an abundance of clothes for my girls
263. massive abundance of toys for my girls
264. my girls truly don't know what it is to want or need
265. family collecting pop can tabs, box tops for education and cambell soup labels so we can donate them to help others (Ronald McDonald House) and Caitlyn's school (box tops and labels)
266. a new exercise challenge to get me moving again
267. a hubby who changes diapers (almost) willingly
268. cute baby nods and smiles
269. nutella on bread
270. time with cousins and family
Survive til you Thrive!