This week has to be better than last.  It just has to.  The crying and hiding at work is getting old.  The praying no one talks to me is getting old.
The last few days have been better.  We are almost done raising my medication dose and the last couple days seemed easier with that.  I am praying that is still the case when I am at work and trying to sit still!
In the midst of it all, there is much to be thankful for: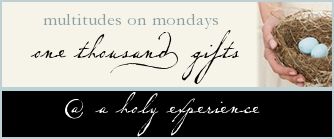 360 (90).  A clean basement.  Brought about by a flood, but it is clean now.
361 (91).  Weather warm enough for running outside.
362 (92).  Girls having fun at a birthday party.
363 (93).  Smiles and giggles from Patrice.
364 (94).  The girls sleeping with their light off at night.
365 (95).  A good sale on some new work clothes.
366 (96).  Being able to buy a size smaller in tops, even a single digit size dress jacket!
367 (97).  A redesigned blog (Thank you Lauren)
368 (98).  Girls being sweet as we volunteered at the food bank.
369 (99).  Husband willing to give time consistently to volunteer.
370 (100).  A good chiropractor.
371 (101).  Headphones to listen to music at work.
372 (102).  Pretty snow.
373. (103).  A car that does well in the snow.
374 (104).  Doctor teaching me how to deal with Caitlyn's tattling.
375 (105).  Caitlyn asking to spell, I am thankful for my family and our walk.
376 (106).  Sue telling me Friday was a special day because it was loving and caring day.
377 (107).  Cuddles with Sue before work.
378 (108).  Dewy morning smiles from Patrice.
379 (109).  P!ink
380. (110).  Dance parties with my girls.
381 (111).  Mornings that do not include yelling at the girls.
Survive til you Thrive!