I took a brief hiatus from the thankful list as my mind whirred and the depression raged on.  As has been mentioned here on my blog, I was hopitalized in March for the depression.  It was the safe and wise place to be.  Thanks to all who prayed for me and cared for our family.
And now I retun to the Multitude Monday list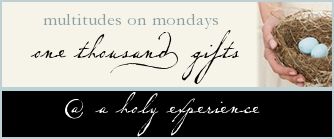 401 (131).  Tasks at work that I enjoy
402 (132).  Neighbors returning our dog when he roams
403 (133).  A friends' successful VBAC
404 (134).  Yummy work lunches
405 (135).  A medication adjustment letting me run
406 (136).  Generous family members
407 (137).  People making the best of a bad situation
408 (138).  Sunshine sending vitamin D 🙂
409 (139).  Wonderful doctors
410 (140).  Days of feeling normal
Survive til you Thrive!