We had spring this week. We had 2 days of 50 degree weather. And it was glorious. A lot of snow melted. I went without a coat one day and got to do my running outside. The heart starts dreaming of spring, while knowing it is much too early. It is beautiful.
Now it is snowing, there are storm warnings like crazy. Winter is encapsulating us. It is right on schedule. It is beautiful.
My girls like to pray at dinner. Caitlyn especially. She always thanks Jesus for a warm house. Today I echo her thanks.
51. For a warm house.
52. For new tires on the Jeep (I might need that 4 wheel drive!!!)
53. For the beauty of snow.
54. For clothes to wear, wash, fold and put away.
55. For too much to eat, so we need to start a diet tomorrow.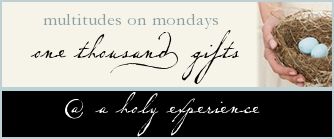 I am not alone in my thankfulness. Please see what others are thankful for at A Holy Experience.
Survive til you Thrive!