Today, I had to take my oldest to the dentist for fillings. I thought she would be pretty freaked out, so I told her afterward we were going shopping.
The dentist is very impatient and declared he could only do one, she was too fidgety…blah, blah, blah…but we got one. She was so good. And it just kept going. We headed to the mall. We had some Christmas shopping to do (as I will head over to my family later this week to celebrate).
We started with some clothes shopping for a niece and nephew. It was so fun picking stuff out with her. Talking, Giggling. Having her listen.
Then we got a pretzel, once her hour had passed and she could eat. And on to two more stores where she helped me pick out gifts, her tastes run a little expensive in the toy store!
When she got tired, she said, "let's find some place to hang out." And started hinting at the play area. I said, "you just want to go play." "That's what you think mommy." Then a little later, she said, "you're right mommy, I do want to play!"
So we did for a bit.
Then off to do more errands. And finally, lunch. I decided to treat us to a real, grown up lunch. Too bad I chose something neither of us ended up liking to split…ah well. We got it sorted out. And then to head home.
It was a joy and a pleasure to spend the day with my Caitlyn. Oh, the heartbreak I felt when I got home and the bickering, whining and crying started up with all three girls. I LOVE having my three. I wouldn't change it for the world. But I do wonder, sometimes, if we are raising them correctly. Is it supposed to be so hard to have peace with all three of them together? Are they supposed to bring out the worst in each other? What are we doing wrong???
I am so thankful for today:
250. Fun and bonding with my oldest daughter.
251. A nice Christmas.
252. Singing Happy Birthday to Jesus using a cake I decorated!!!
253. Running 10 miles without stopping.
254. Finishing a fitness challenge.
255. Signing up to run a half marathon in the spring.
256. Hugging a good friend at church on Sunday.
257. The generosity of family to my girls.
258. A green Christmas.
259. The support of my hubby and friends during a rough bit yesterday.
261. Singing, "My Hat it Has 3 Corners" and thinking of my dad.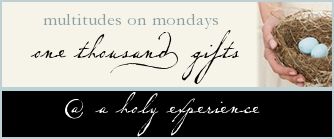 Survive til you Thrive!