Linking up for TGIF at 123 Homeschool 4 Me.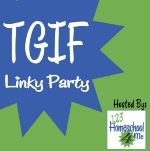 A word exterminator, that is.  I recently found the idea to make a tape spider web on the floor and then put word flies on it for the girls to read/find/catch.  Whichever "spider" got the most flies won.  I can't find the original pin, but if you are looking for sight word fun, check out momto2poshdivas board.  I'm certain she had the floor spider web idea, but I know that I know, she has tons of great ideas and I have or will use many of them.
We did two versions.  Patrice had colors and color words on her flies.  Caitlyn and Sue had sight words on their flies.
I'll admit, I originally told Caitlyn to not go too fast, to give Sue a chance.  Turns out, she didn't need the advantage.  She did fine on her own…and won!
I do have a piece of advice, use painters tape.  I used, apparently, paper tape, and it was a bit challenging to get off the floor.  Painters tape would come up MUCH easier.  I *might* have been sitting on my floor with a Pampered Chef scraper to get the rest of the tape off the floor.
The girls loved this game.  We will definitely do it again…with painters tape.
Survive til you Thrive!