There are tons of great blog hops on Friday: 5 Minute Friday, 5 Question Friday and Life Lessons. This week I am visiting…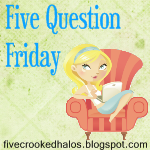 (But make sure you check out those other ones too!)
1. Dream job…realistic and completely unrealistic.




I would love to be a midwife. I don't know if that is realistic or unrealistic. I really don't know. But I really wish I could do my education over and be a Certified Nurse Midwife.






2. Do you fart in front of your significant other?


I try not to. I try desperately not to, but I do not always succeed. Ugh.






3. What's the furthest you've ever traveled from home? How far and where was it?


Australia. It's like a 14 hour flight. I was traveling with a music group, Celebrant Singers, as an interpreter for the hearing impaired. Sign Language in Australia is not anything like American Sign Language, but it is still pretty and when given to the Lord can be used as a mode of worshipping Him. I did three tours with Celebrants, England, Australia and Alaska. What amazing experiences!






4. How do you celebrate birthday for your kids? Family only or friends? … Alternate for those without kiddos: How did you celebrate birthdays as a kid?




Right now, we do a mix. We have a celebration with just our own family of 5 and a party with some of their friends, our extended family and our friends. At each age, my hubby says, this is the last party, right? Nope. Birthdays have always been something to celebrate in my family. And as a mom, I am seeing them more and more as a personal milestone. A way to mark how they are growing and changing, a way to celebrate their lives and our life as a family.




5. Fave thing about fall?


Just one, honestly? There are so many. The cooler temperatures that allow you to bake and cook more comfortably. Apple Pie. Soups and stews. The leaves changing colors. Hubby and my anniversary. Fall! Wonderful.
Can't figure out how, but I somehow grabbed the wrong questions…well I had fun answering them, so I'm going to leave those and do this week's too. So here's 5 more…
1. Do you apologize to your kids if you're wrong?





All the time. My kids get lots of opportunities to learn the importance of apologies and forgiveness. I sure wish I didn't give them so many opportunities, but you know…
2. Do you have a class ring, Letterman's jacket, or similar obscenely priced high school "must have"?


I have both high school and college class rings. I paid for both with my own money. And I'm glad I have them.






3. If you could be one age for the rest of your life, what age would you choose?




I think this age, 36. I am comfortable in this age. I love my life with my hubby and my three wonderful girls. The last year has been tough with the postpartum depression, but otherwise, it has been fantastic. Absolutely fantastic.




4. What is your favorite (unused) baby name?




We've had the same boy name picked out since we first started talking about kids, Levi. As you can see from our family, we have not yet had opportunity to use it. Only the Lord knows if we ever will.




5. If you could make your child like something what would it be?


Obeying. Yes, I would have them like obeying. It would cover so many other things. If they liked obeying they would not fight. They would clean their rooms, they would eat their dinner. They would give mama a break when she needs one. They wouldn't throw fits. Yes, obeying would be a great thing for them to like.