My sister shared the above video with me after reading my post, Very Dark Woods. It communicates where I live right now, perfectly.
And for that I am thankful.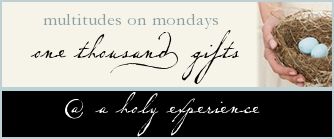 28. For people who care, even when we think we are alone
29. For the outlet of writing, whether in a journal, a blog or twitter 🙂
30. People who reach out, go above and beyond, in short, allow themselves to be used by God in our lives.
And I am not alone in my thankfulness. Please see what others are comtemplating today at A Holy Experience.